Part number: ZN8 650-CB302-75
95" Throttle Cable - Hisun 500cc 700cc - Version 75 - is currently on backorder. You may still purchase now though and we'll ship as soon as more become available.
95" Chinese Throttle Cable For Hisun 500cc and 700cc UTVs
Version 75
This Chinese throttle cable is the replacement part for the Hisun 500cc and 700cc UTVs.  
Cable description:
95" over all length [237cm]
Straight on both ends
One end has 22mm disc with rubber one way push pin
Other end has threaded 3/4" with long and short nut
61030-115-0000
Known to fit Bennche, Coleman, Cub Cadet, Hisun, Massimo, Supermach, Qlink and more!
See specs and pictures to verify this is the correct cable.  Be sure to match both ends of cable with current cable.
Shipping details:
Do you need your cable fast?  If you order before 3:00 pm CST, Monday thru Friday, your order goes out the same day.  Free shipping on orders in USA over $100. Excludes Hawaii and Alaska. Buy now!
Customer Reviews
Write a Review
Ask a Question
Filter Reviews:
position
throttle body
throttle pedal
measurement
pair
light squeeze
reading
outter vinyl
hex corners
slack
Fits BMS Ranch Pony 500CC W/Modification
In order for this to work with Ranch Pony 500 version First make cable straight by unwinding from package On Throttle body fitting side pull cable out in order to lave the length like throttle pedal is not pressed, fully fasten but dont over tighten both small and large nuts Measure from the end of large nut to the tip of cable, you will need 10CM with a pair of pliers give the small hex corners of throttle fitting a light squeeze then pull fitting off with pliers subtract your measurement from 10CM then strip for example if your reading was 8cm you will need to stip 2cm of both the outter vinyl and uncoil the metal coil spine with two pairs of pliers one holding the cable as the other is uncoiling the metal spine.Also to check to see if you have slack for the throttle to fully return mark 12 oclock position of the throttle lever before attaching cable. if you find the throttle body lever is not returning to 12 position then strip and uncoil metal one rotation at a time!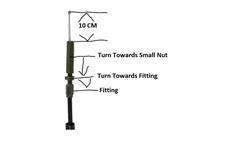 Prompt Delivery, Arrived As Described!
Will work with BMS Ranch Pony 500, Only thing is that you would need to pull off the fitting by the carb side with a pair of pliers in order to strip the outer vinyl and unwind the metal coiled spine as to which the bare throttle cable travels through about 2CM. With both the small and large nuts fully fastened to the throttle fitting, you should have 10CMs of bare cable between the tip of the large nut pointed towards the cable and the tip of the cable which attaches to gold throttle cable guide on throttle being that the Mikuni BSR on BMS Ranch Pony Clones has a longer throttle Cable feed tube than the PDXXJ carb found on the Hisuns Clones!